Description
Food fortification is the practice of deliberately increasing the content of vitamins and minerals in a food product, to improve the nutritional value of the food and provide a public health benefit.
Micronutrients/nutrients are added to food to improve or maintain the quality of diet of a group, community or population.
Anthem offers USP grade vitamins that can be used in fortified flour and dairy food fortifications.
Wheat and maize are an important constituent of the diet in many parts of the world – that is why strategic flour fortification is seen as an effective way of improving people's health status around the globe. 

Milk and Milk products are good carriers for micronutrient fortification.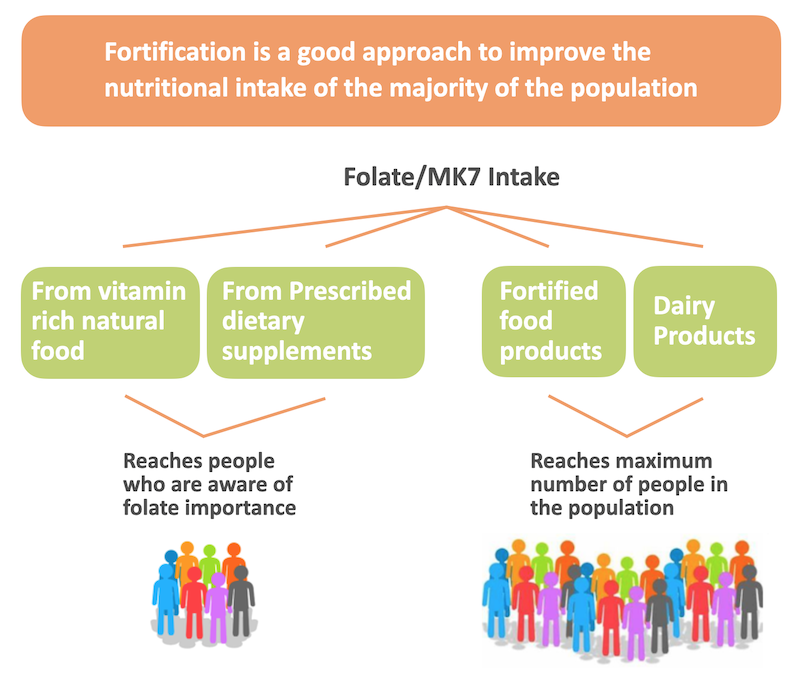 Health benefits of L-5-Methyl tetrahydrofolate Ca USP/Vitamin B9
(see also our product: Anthem Biosciences – L-5-Methyl tetrahydrofolate Ca)
Important nutrient in pregnancy and neonatal growth

Supports bone health

Important vitamin in the formation of DNA and RNA

Supports mental health
Health benefits of Menaquinone-7/Vitamin K2
(see also our product: Anthem Biosciences – Menaquinone-7/Vitamin K2)
Important vitamin for healthy heart and bones

Increases Bone mineralisation.

Lowers risk of osteoporosis

Lowers risk of thrombosis, heart attacks, lung embolism and strokes