Natural Flavour Company – Karow-Aromen
Since 1948, Karow Aromen has been developing flavours and colourings in natural, clean-label and organic quality for the luxury artisan baker, pastry chef, chocolatier and ice cream makers as well as the confectionery industry. With Natural Flavour Company I represent them.
Karow-guarantee 100% natural raw materials
With Karow's clean label products, you can be absolutely sure that these items have been produced without preservatives, without colours and only with flavourings that contain at least 95% of the named raw material. The remaining <5% are from natural raw materials. These products are real clean label.
Minimum of additives, maximum food safety!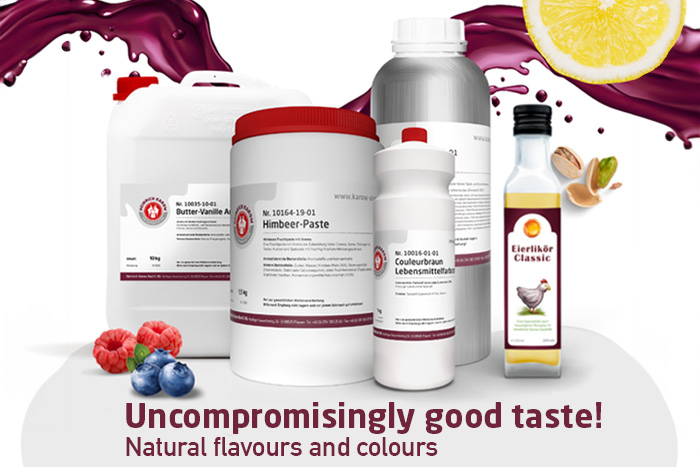 Why are Karow's clean label products so special?
Karow's clean label products are free from:

• Hydrogenated fats material
• Chemical synthetic emulsifiers
• Chemically modified starches or flours
• Colours, preservatives and flavour enhancers
• Acidity regulators – except the salt of citric acid and calcium citrate
• Raw materials from genetically modified seeds
My mission is to replace synthetic flavour and colourings with natural ones.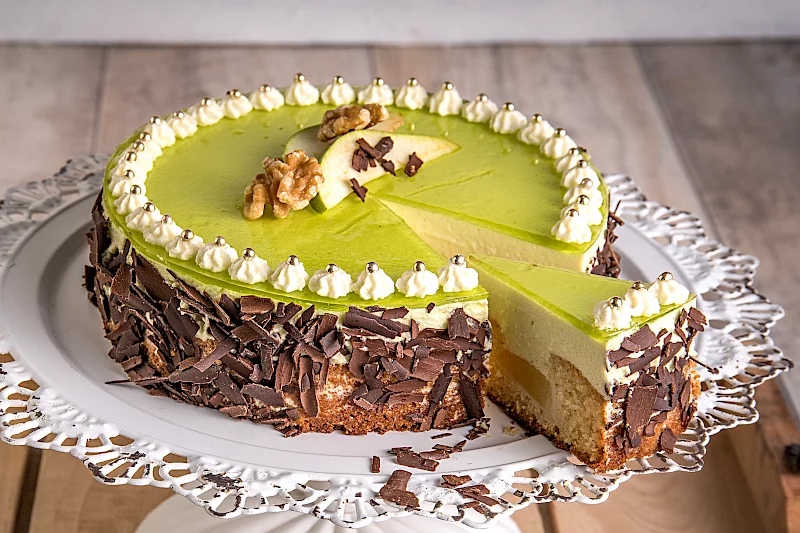 Natural Product Portfolio
Dark red paste 25% fruit content Taste: typical of the type, fruity, of cherry Natural ingredients in line with clean label products! Remains stable when frozen Without the addition of…

Go to details page
Syrupy caramel paste Remains stable when baked or frozen Without the addition of dyes and preservatives

Go to details page

Appearance: yellow -orange, syrupy to pasteus. Taste: Typical egg liqueur with a touch of rum Remains stable when baked or frozen Contains egg

Go to details page

Syrupy, clear elderflower with 35% pure natural elderberry syrup Remains stable when frozen Without the addition of dyes and preservatives

Go to details page

A viscous paste for making high-quality hazelnut bakery products Remains stable when baked or frozen Without the addition of dyes and preservatives

Go to details page

A natural, viscous fruit paste with pieces of lemon peel Remains stable when baked or frozen Without the addition of dyes or preservatives

Go to details page

Natural, syrupy paste with finely ground lemon zest (<3mm) Remains stable when baked or frozen Without the addition of dyes and preservatives

Go to details page

Natural syrupy paste with coarse orange peel (approx. 30%) Remains stable when baked or frozen Without the addition of dyes and preservatives

Go to details page

Syrupy green paste for the production of fine cakes with dye (azo-free) Remains stable when baked or frozen

Go to details page

A baking and confectionery paste with 27% Jamaican rum Remains stable when baked or frozen Without the addition of dyes and preservatives

Go to details page
Viscose apple paste with taste of fresh apples contains 10 % apple Remains stable when baked or frozen Without the addition of dyes and preservatives

Go to details page

Viscous paste with chunky blackcurrant content Remains stable when baked or frozen Without the addition of dyes and preservatives

Go to details page

Natural, syrupy pasta with a very high proportion of blueberries Remains stable when baked Without the addition of dyes and preservatives

Go to details page

Dark red paste made from sour cherries and high-quality juice concentrate Remains stable when baked or frozen Without the addition of dyes and preservatives

Go to details page

Syrupy dark red paste with a high proportion elderberry juice Remains stable when baked or frozen Without the addition of dyes and preservatives

Go to details page

Syrupy spicy natural aroma Remains stable when frozen Without the addition of dyes and preservatives

Go to details page

Sturdy natural fruit paste contains 20% mango puree Remains stable when frozen Without the addition of dyes and preservatives

Go to details page

A viscous fruit aroma paste with 20% pineapple fruit Remains stable when baked or frozen Without the addition of dyes

Go to details page

Syrupy, dark red natural fruit paste of high-quality raspberry pulp (40%) Remains stable when baked or frozen Without the addition of dyes and preservatives

Go to details page

Dark red, syrupy pasta with pieces of strawberry Remains stable when baked or frozen Without the addition of dyes and preservatives

Go to details page
A liquid natural flavor with taste of fresh ripe apples Remains stable when baked or frozen Without the addition of dyes and preservatives

Go to details page

Liquid natural flavor with taste of ripe bannanas Remains stable when baked or frozen Without the addition of dyes and preservatives

Go to details page

Liquid, slightly syrupy aroma Remains stable when frozen Without the addition of dyes and preservatives

Go to details page

Liquid, slightly syrupy aroma Remains stable when baked or frozen Without adding colorants

Go to details page

Syrupy, light yellow, natural aroma with the taste of Sicilian lemons Baking and freezing stable Without the addition of preservatives

Go to details page

Syrupy, light yellow, natural aroma Remains stable when baked or frozen Without the addition of dyes

Go to details page

Liquid, slightly syrupy aroma Remains stable when baked or frozen Without the addition of dyes

Go to details page

Liquid, natural flavor with fruity taste of mangos Remains stable when frozen Without the addition of dyes and preservatives

Go to details page

Liquid, natural flavor with fruity taste of oranges Remains stable when baked or frozen Without the addition of dyes and preservatives

Go to details page

Liquid natural flavor with fruity scent of ripe peaches Remains stable when frozen Without the addition of dyes

Go to details page

Liquid, syrupy natural flavor with the fruity taste of ripe pineapple Remains stable when frozen Without the addition of dyes and preservatives

Go to details page

Liquid, slightly syrupy aroma Remains stable when frozen Without the addition of dyes and preservatives

Go to details page

Liquid, natural flavor with taste of sour cherries Remains stable when baked or frozen Without the addition of dyes and preservatives

Go to details page

Liquid, syrupy natural flavor with fruity scent of ripe stawberries Remains stable when frozen Without the addition of dyes and preservatives

Go to details page
A liquid, viscous aroma with taste of almonds Remains stable when baked or frozen Without the addition of dyes

Go to details page

Liquid, slightly syrupy aroma typical fat butter flavor colorless light yellow Remains stable when baked or frozen Without the addition of dyes and preservatives

Go to details page

Liquid, slightly syrupy aroma Remains stable when baked or frozen Without the addition of dyes and preservatives

Go to details page

Liquid natural rumaroma (> 95% real rum) Remains stable when baked or frozen Without the addition of dyes and preservatives

Go to details page

Brown, syrupy liquid, natural aroma Remains stable when baked or frozen Without the addition of dyes

Go to details page

Liquid, slightly syrupy aroma Remains stable when baked or frozen Without the addition of dyes and preservatives

Go to details page

A liquid essence with rum flavour Remains stable when baked or frozen Without the addition of dyes and preservatives

Go to details page
Bright to slightly cloudy cognac brown liquid Taste: typical Bourbon vanilla Remains stable when frozen. Without the addition of dyes and preservatives

Go to details page

A purely natural extract of vanilla pounds (vanilla extract) Remains stable when frozen and moderate stable when baked Without the addition of dyes and preservatives

Go to details page