SAFEGUARD YOUR FOOD SUPPLY CHAIN QUALITY AT A LOWER COST
Realtime Quality Control at the Frontline.
Chemometric Brain is a unique quality control system based on Near-Infrared technology (NIR). It guarantees the traceability, suitability, and homogeneity of ingredients and food products, especially in blends.
It can be applied to many samples, including powders, solids, gels, and liquids, and provides a consistent identification and comparison against other samples.
A product's properties are obtained in a scan lasting a few seconds without the need to use an external laboratory, saving significant time and money.
The significant difference between NIR solutions already available and Chemometric Brain is that this is the only software in the cloud. It allows a company to consolidate all NIR spectra from multiple devices and multiple equipment manufacturers in one place.
THE FOOD INDUSTRY'S ONLY CLOUD-BASED NIR SOFTWARE
You alone will have access to your information. We use unrivalled data-protection technology to guarantee 100% confidentiality.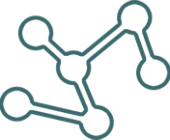 Identify and approve raw materials.
Determine products' homogeneity, shelf-life, and mixture composition.
Monitor and certify suppliers.
Determine physical-chemical properties.
Detect food fraud.
NIR is used for multiple food products: seeds, vegetables, blended products, and processed food. It is possible to analyse solids, gels, paste, oil, and liquids using different NIR accessories.

You need no special chemometrics training to use the software successfully. Results are easy to interpret because they are graphically conceived.
Cloud-based so that you can access it anywhere, anytime.
Our team of highly skilled technicians is on hand to help create your end-product libraries. These libraries will be made available to you while we continue improving raw material libraries.
FIVE  EASY STEPS TO IMPLEMENT CHEMOMETRIC BRAIN
Book a Free 20 minutes Introduction to Chemometric Brain
€0,00 Excl. VAT
Safeguard Quality in your food supply chain and reduce costs at the same time to achieve that. Implement Chemometric brain and Near Infrared Technology to accomplish that.
Order receipt until dispatch: 2 days
Book a Free 20 minutes Introduction to Chemometric Brain
Supplied by: Chemometric Brain
Login to view TDS and others
Description
THERE ARE TWO THINGS TO THINK ABOUT TO GET GOOD RESULTS FROM A DIGITAL QUALITY CONTROL SOLUTION
1. Which Near InfraRed (NIR) machine do I need? You will need a NIR scanner of suitable quality. You would use this to point at a sample for 2 seconds and it will generate a spectrum – a digital fingerprint – for that specific batch. If you have one already that's great – we just need to understand if it's a good enough device to generate the right data. If you don't have one that's OK –  we don't sell these devices ourselves but can advise on the various options and put you in touch with the relevant manufacturers. They can be purchased or leased.
2. What subscription to Chemometric Brain do I need?. Our software is based in the cloud so for an annual fee, we host your data, upgrade the software, and keep everything secure. This is included in the annual fee. There are a number of options available such as different types of users and different analytical tools such as quantitative, qualitative, and artificial intelligence depending on how you want to manage your quality control process and share it with customers.
The best way to understand the options is to book a time to talk with us – and together we can work out what options best suit your needs.

Our mission is to democratize spectroscopic techniques making them accessible to any food company. These techniques are easier, faster, and cheaper to use than other options on the market.
We are a group of experts from various disciplines of analytical science and have been successfully applying this quality control technique in the food industry for more than 12 years.