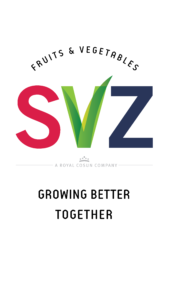 100% Natural, clean label fruit & vegetable ingredients for food and beverage applications.
Looking for high-quality, sustainable fruit and vegetable ingredients? Our portfolio of premium purees, concentrates, NFC juices and IQFs are not only tasty and 100% natural, but you also receive the added reassurance of SVZ's reliability.
Drawing on more than 150 years of expertise across the agro-supply chain, our collective knowledge and close collaboration with our partner farmers, customers and suppliers makes us the go-to fruit and vegetable ingredients supplier for leading food and beverage manufacturers across the globe.
Together, we grow better.
Agronomy is our core and passion.
We pride ourselves in the relationships we have with farmers. From seed to harvest. Our strong partnerships with local growers and production facilities within the world's finest growing regions ensure SVZ fruit and vegetables are cultivated, harvested and processed to the highest standards. 
Sustainability is at the heart of our business.
Owned by a farming co-operative, our entire operation is built on sustainable agricultural practices. We care about our farmers and their land. We are committed to efficient supply chain management and accredited by key global sustainability initiatives – EcoVadis Gold, SAI Platform and Sedex
Innovation as we know fruit and vegetables 
Our purees, concentrated purees and juice concentrates are tailored to specific needs of our customers, according to highest quality, food safety and sustainability standards. Our understanding of the raw materials helps us develop what you need to harness the power of 100% natural fruit and vegetable ingredients.
WE TREAT EACH FRUIT AND VEGETABLE UNIQUELY TO DELIVER HIGH QUALITY PROCESSED INGREDIENTS ALL YEAR ROUND.