Description
The 1-2-Tester Vegan Burger Mix Box is a complete mix concept with functional ingredients to make your own vegan burger – one you do not want to miss! Together with our product development partner TeamTastemaker we created an all-natural, vegan burger. This burger mix consists of a natural fibre mix for the perfect texture, deliciously flavoured with onion powder and concentrate, an especially designed burger spice mix and yeast extract. The natural liquid colour is extracted from vegetable juices. Teff coarse flakes are added for an extra bite as well as for the texture. Try our 1-2-Tester Vegan Burger Mix Box (to make an approximate 15-20 burgers) and get inspired! The box includes the recipe and the step by step recipe to make this flavourful vegan burger. Would you desire a personal touch to this burger? We can work with you to add your own twist and signature for your brand. Possibilities with 1-2-Taste's ingredients are endless.
Find ingredients for it? 1-2-Taste developed this vegan burger with product development partner TeamTastemakers using ingredients from different suppliers from the 1-2-Taste platform. 1-2-Taste is offering many more ingredients for your plant-based products – and use TeamTastemakers expertise for development. Download our inspiration sheet here.
The main ingredients of our Vegan Burger Mix Box are:
• Onion powder and concentrate (from Gourmet Ingredients)
• Yeast extract (from MCLS)
• Natural colouring (from Plant-Ex)
• Natural fibre mix (from TeamTastemakers)
• Burger spice mix (from TeamTastemakers)
• Binding system (from TeamTastemakers)
• Teff coarse flakes (from Blonk Quality Ingredients)

How to make your burger step by step:
1. Mixing


Weigh ingredients as per the recipe. Mix the dry mix in a bowl and add the oil and water. Stir the mix firmly for about 2 minutes until you have a homogenous mixture.
2. Setting


Put the bowl in the fridge and let the dough set for 2 hours at a maximum temperature of 4 degrees °C.
Take the bowl from the fridge and form the burgers and make sure you press the dough well to form a compact structured burger.
3. Baking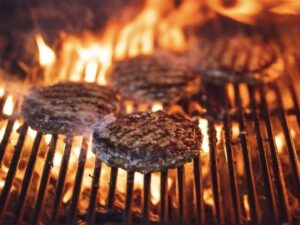 Pan fry or barbecue the burgers for 4-5 minutes on each side on medium-high heat.
4. Enjoy!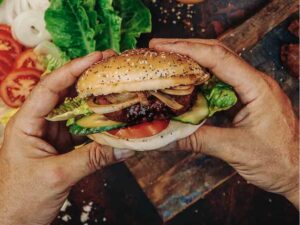 Serve the burger on a bun and add vegetables and sauce to your liking. Enjoy!
1-2-Taste supplies many meat and dairy replacers for your plant-based products and the number is still growing – so do check our website regularly!