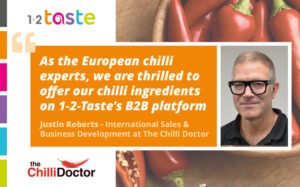 The Chilli Doctor Joins 1-2-Taste's B2B Platform for Bulk Chilli Ingredient Supply
We are excited to announce that 1-2-Taste is now offering The Chilli Doctor products on our B2B platform for buying food ingredients! The Chilli Doctor is a BRCGS-accredited company that supplies bulk chilli ingredients to a range of customers, from large food manufacturers to smaller artisan producers across Europe.
Not only does The Chilli Doctor offer a one-stop-shop for bulk chilli ingredients, but they are also experts in the wonderful world of chillies, with great relationships with global growers and processors, and producers that allow them to guarantee full traceability of their chillies from field to factory.
Working in partnership is key for The Chilli Doctor, as they want to help buyers, food technologists, and NPD Managers choose the right chilli for the product being developed.
This expertise and commitment do not stop at just supplying raw materials; The Chilli Doctor offers product tasting workshops where all aspects of the 'chilli decision process' are brought to life. Key considerations such as price, pungency, color, provenance, organoleptic properties, and most importantly food safety are explored.
So, whether you're a large food manufacturer or a smaller producer, The Chilli Doctor has the expertise and chilli ingredients to fulfill your specific needs. Visit the brandstore of The Chilli Doctor today to explore their range of chilli ingredients!