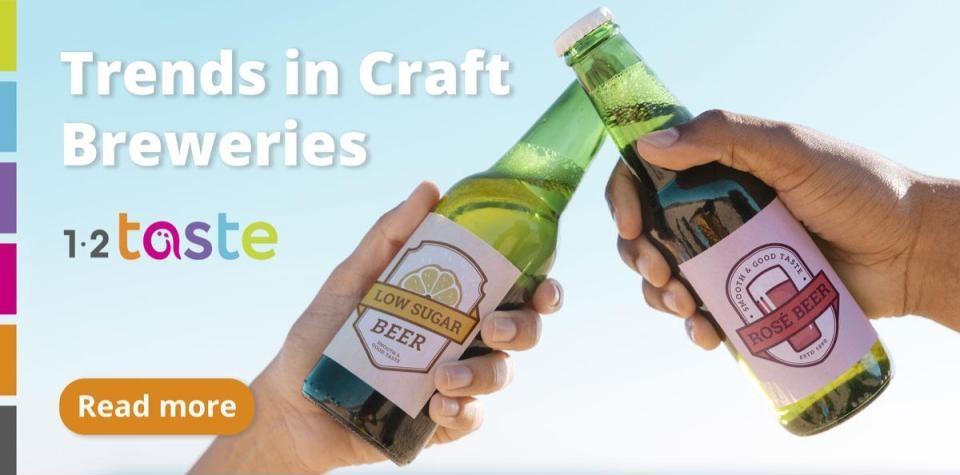 "The Craft Beer Market Share in Europe is expected to increase by 666.34 million liters from 2020 to 2025, with an accelerated CAGR of 6%" – according to the recent market study by Technavio. Craft brewers are always under pressure to brew something new and innovative. Innovation has become a preeminent growth driver, especially in the craft beer industry. So the need for brewers to keep themselves abreast with emerging trends has become essential in growing their businesses more than ever before. Let 1-2-Taste take you through some of the emerging trends shaping craft brewery business today.
Be(er) healthy is in
According to the latest report by Future Market Insights, Non-alcoholic beer is growing at a CAGR of 7.2%, and Europe is the third largest market for it. This is mainly due to:
Ongoing health and wellness trend;

Low and zero alcohol beer that is better tasting than ever;

An increase in the variety of alcohol-free beers, including non-alcoholic craft beer.
For several years now, beer companies have faced a new breed of health-conscious consumers who prefer to buy non-alcoholic beers rather than alcoholic ones. As a result, the majority of companies have responded by developing a wide range of low- and no-alcohol offerings. Microbreweries produce roughly 500 alcohol-free beer varieties. Although alcohol-free beer is much more developed in Western Europe, the Eastern European market has also witnessed steady growth in recent years. It simply tastes better than before.
Do you want a healthier beer (mix) variant in your range? Try Stevia as a sweetener
A research study by Pure Circle Stevia Institute on a reduced calorie lemon flavoured beer indicates that replacing the sucrose with 25% stevia, 50% isomalt and 25% sucrose had no negative effect on the qualitative traits and taste of the beer. When using stevia in alcohol applications, it is important to consider the alcohol content (%abv), alcohol source and flavour. In general, alcohol decreases sweetness perception so one has to start with a sweetness target about 10% higher than for a non-alcoholic beverage. For beers with more than 9% alcohol, it is recommended to use a blend of steviol glycosides. Take a look here here 
on 1-2-Taste for the best quality Stevia for bulk online purchase !
Stevia is a plant that has been used for centuries to sweeten beverages and tea. It is a non-nutritive sweetener and herbal supplement.

Supplied by: Moringa Wize View Details

Sweetener Compound classic gives you the ability for partial sugar reduction. Sweetener compound classic has many applications such as beverages, dair

Supplied by: Sweethouse View Details

A peek into more flavourful ideas for your craft beer range
Follow the Wine path
Rosé beer is going to become an even bigger trend and will become widely accepted. The beer, inspired by the light pink wine,is about to become a part of the craft brewery community. This is not just about turning macho beer pink but some wine-beer combos are even fermented with grapes from top vineyards. On the other hand, breweries are experimenting with the flavour of wine/grape added to a beer. 
Spice it up 
Spicy beers offer a superb flavour profile – sweet and spicy and one of the top-most selling variants in 2022. It started off with fresh spices and herbs and nowadays microbrewers are employing extracts of herbs and spices to add the extra zing. The result is a more interesting beer, with a depth of well-balanced natural flavours.
Back to traditional fizz
Traditional flavours are reigning in again with beer drinkers. Kombucha is one such flavour, which is now trending as the most sought-after. Kombucha is originally an ancient fermented tea that has grown in popularity around the world because of its amazing taste and health benefits. This elixir of life is rich in probiotics and antioxidants. Many craft brewers believe that making craft-brewed kombucha is a science. It is interesting to note that there is a lot of experimentation going on with brewers as they try to combine various flavours with Kombucha.
1-2 Taste FOOD INDUSTRY FOCUS
Go Alcopop!
A recent survey by Market Research Future has predicted Alcopop Market to reach a market size of 4.6 billion by 2024, growing at a significant CAGR of 5.6% during the forecast period from 2019 to 2024. The growing popularity of flavoured low alcoholic drinks (LADs) is increasing the share of Alcopop in the liquor market. The top-most trend is to incorporate surprising ingredients to create unique and surprising fruit flavours. The fruit flavour infusion can be done by adding extracts, juices, purees, NFC and powders. It comes in a massive range of fruit flavours: peach, apple, lemon, ruby grapefruit, pineapple, orange, watermelon, cranberry, blackberry, blueberry, pomegranate, lime, raspberry, coconut, mango, and strawberry. However, many of these fruit-based LADs contain (a lot of) sugar. Using sugar replacers increases the marketability of  LAD and can easily push the USP of low or no sugar and low calories, attracting health-conscious customers. Stevia has been the preferred sweetener by many industry experts used to reduce sugar in alcoholic beverages such as beer and cocktails.
Did you know that software is becoming a huge game changer in microbrewery industries? According to a recent finding,IntelligentX is an app that employs AI and machine learning to understand the specific tastes of its users. IntelligentX compares the user's preferences to supply chain and production limits to locate people who share similar tastes. Using an algorithm called Automated Brewing Intelligence, this London-based company went on to make the world's first AI-brewed beer (ABI). They released four flavours based on this algorithm: Amber AI, Black AI, Golden AI, and Pale AI.
Stay tuned for more such trends and updates. Do not forget to discover all ingredients for your microbrewery business here at 1-2-Taste. Order online in industrial pack sizes and get delivered to your doorstep!