Description
Banana Blossom is being used as an excellent replacer for animal fibers in all kind of dishes.
The structure is identical towards fish and meat. Flavouring could be boosted and copied by using the right spices, available at your local supplier.
Protein content isn't the same as the animal alternative, however, this could be added if the recipe is requiring this by adding plant based proteine.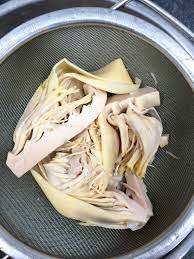 Banana Blossom is available in tin cans and pouches. We import the pouch, due to the fact that there isn't brine inside, so it's only Banana Blossom you receive. After testing of the tin cans we found out, that the fruit is absorbing the brine and this makes it harder in the production to be succesful. Therefore our advise is to order the pouch. Available in 2kg and 6 times 2kg in an outer carton. Shelf life after production is 18 months and the product can be stored in an ambient athmosphere
In organic as well available.
For more information wikipedia: Banana flowers (also called "banana hearts" or "banana blossoms") are used as a vegetable in South Asian and Southeast Asian cuisine, either raw or steamed with dips or cooked in soups, curries and fried foods. The flavor resembles that of artichoke. As with artichokes, both the fleshy part of the bracts and the heart are edible.