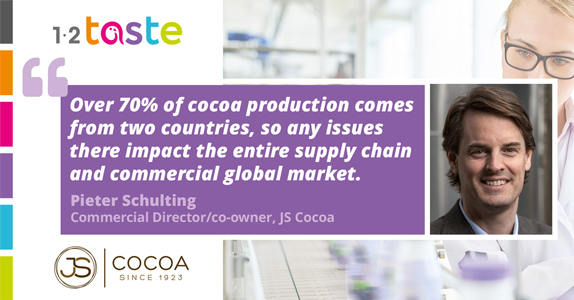 Attention all food innovators and supply chain experts!
In the latest episode of 1-2-Taste's Talks Food Ingredient podcast series, Jasper Schouten chats with Pieter Schulting from JS COCOA about supply chain issues and the importance of seeking out new ingredients. Did you know that suppliers are constantly innovating too? From A2 beta-casein milk to black alkali cocoa powder, there's always something new to discover that could open up new opportunities for your business. Don't miss out on the chance to stay ahead of the game!
"Over 70% of cocoa production comes from two countries, so any issues there impact the entire supply chain and commercial global market."
Pieter Schulting, JS Cocoa
The full recording of Podcast #2: 'Challenges and Opportunities in Dairy' is available now on all streaming platforms.
Do you want to learn more about this topic:
•  JS COCOA
•  Dairy ingredients at 1-2-Taste