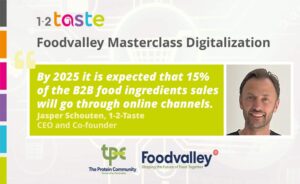 1-2-Taste Foodvalley Masterclass Digitalization
Jasper Schouten, CEO and Co-founder of 1-2-Taste, recently presented a Masterclass on Digitalization in Food Ingredients for The Protein Community, which is supported by Foodvalley NL. The on-demand video showcases the case study of 1-2-Taste, and in the masterclass, Jasper Schouten emphasizes the need for a digital food ingredients strategy in today's age to succeed.
This Foodvalley Masterclass is available on demand showing the 1-2-Taste case. "If you want to be successful in this day and age, you need to have a digital strategy", states Jasper Schouten in this masterclass – a collaboration between The Protein Community and 1-2-Taste.
"By 2025 it is expected that 15% of the B2B food ingredients sales will go through online channels. This might doesn't sound like a lot, but if you look at the total sale, this involves a lot of money". Get inspired by the innovative business model of 1-2-Taste, learn more about the consumerization of the B2B buyer and the opportunities of e-commerce.
The Protein Community, powered by Foodvalley NL, connects alt-protein start-ups and corporates worldwide. Accelerating their innovations and business growth by coupling them with inspiring international partners, capital, unique facilities, and knowledge, and providing in-depth events.
For more information at the Protein Community click here.