Description
Try this Rootzz of Nature inspiration box! It includes three packages of tasty Jackfruit pieces: original, barbecue flavour and curry flavour. This versatile fruit has a tasty meat-like texture so is the perfect ingredient for your vegan dishes. The possibilities with jackfruit are endless. What about a delicious Barbecue Jackfruit pizza, a bun with pulled Jackfruit American Style or an Indian vegan Rendang Curry? The box comes with recipes to get you started.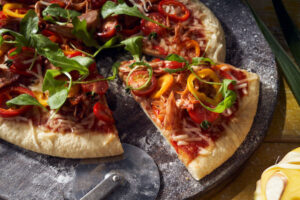 Sustainable
We believe the world is too beautiful to harm. That's why our products are pure and fair. We keep the ingredients as natural as possible, with no unnecessary E numbers.
We also keep our impact on the environment small. If the journey from the jungle to your plate is too long, we collaborate with local entrepreneurs to see how we can support social initiatives. Fair enough? Rootzz of Nature does good and tastes good!