Description
A clean label, plant based natural flavour as alternative for MSG, Yeast Extracts, HVPs and I+G providing umami and kokumi taste sensations. Can be used in all savoury dishes such as soups, sauces, seasonings, meats, plant based foods and noodles.
Key benefits are:
•  Rich umami and kokumi flavours
•  Replaces MSG, Yeast Extracts, I+G and HVPs
•  Natural and clean label
•  Helps reduce sodium
•  Lowers the amount of ingredients and cost of product formulation.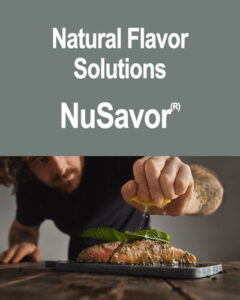 Check out this sheet for more information on NuSavor.