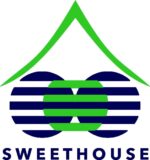 SWEETHOUSE

helps to make healthier products with a great taste. It's the magic created by bringing the right tools together.
SWEETHOUSE uses patented German Technology and also supports efforts to reduce and replace sugar in the food and drink industries. 
SWEETHOUSE makes Sweetening Systems that give the taste of sugar to products. On top of this, they offer international technical support to their partners and customers.
SWEETHOUSE has more than 60 years of experience in application and development. Their experience is in beverages, dairy products, confectionery, ice cream, and more.
SWEETHOUSE aims to fight obesity and diabetes by reducing the sugar content of food and beverages, while maintaining a pleasant taste and character.

SWEETHOUSE has a large Qorus® Dolce selection. Reduce costs while keeping recipes lean and simple!
SWEETHOUSE innovates together with you on new Concepts and Products.

Sweetener Compound classic gives you the ability for partial sugar reduction. Sweetener compound classic has many applications such as beverages, dairy products, custard, ice cream, ketchup, sauces and more.

Go to details page
Get products to the market three times faster with SWEETHOUSE.
Authentic Sweet Taste
• Authentic sugar like taste.
• Excellent Mouthfeel.
• Proven by sensory tests.
Safe Technology & Sustainability

• Ready to use "drop-in" system.
• Easier, quick development and dosage.
• Approved, safe ingredients.
Excellent Stability and Solubility

• Heat and process stable.
• Excellent shelf life in applications.
• Very good solubility.
Friendly Image & Cost Saving

• Clean and friendly image (no warning label).
• Good consumer acceptance.
• Cost in Use Benefit.
Offer choice to your customers

SWEETHOUSE has a patented Sweetening System technology by working closely with Technology Leaders in the Sweetener Industry. As a result, this gives you access to selected high-quality materials like Stevia Specialities and Monk Fruit Specialties. Also, you get the highest qualities of AcesulfamK, Sucralose, and more.
Their Sweetening Systems allow for quick application. Therefore, this lowers the time-to-market.
SWEETHOUSE aims to minimise the amount of sweetener by using natural flavours.
You can easily improve the taste of recipes with SWEETHOUSE. It also helps to reduce certain bitter or off-notes and lingering tastes.
SWEETHOUSE can provide technical consultancy services.
They offer independent sourcing as well as recommendations of natural flavourings and other ingredients. As a result, you can create products with great tastes.
Not only can they help you change your recipes to improve the key nutritional values in your product. But they can also help you to develop brand new concepts and recipes.
1-2-Taste alcoholic beverage podcast