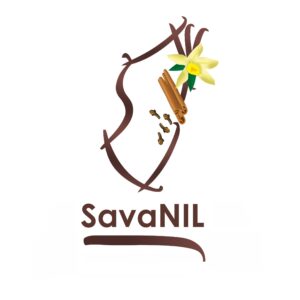 Steady supply of impeccable Organic Vanilla from Madagascar
SavaNIL is one of the few companies that produces and supplies its own vanilla from Madagascar.
SavaNIL is a vertically integrated company with a yearly production more than 40Tons of vanilla, divided into two departments. The curing and production department is based in Madagascar and the warehouse and sales department is based in the UK.
SavaNIL fully monitors the process from the farmers to the customer. SavaNIL control every step of the curing, packaging, documentation, international shipping, customs clearance and final delivery to your doorstep. SavaNIL supplies high strength flavours, pastes and extracts. Their vanilla pastes are available with or without seeds. SavaNIL offers a wide range of high strength flavours and extracts in liquid or powder form which are all egg free, sugar free, nut free, suitable for vegan and vegetarian manufactured in the UK to BRC standard. SavaNIL flavours, pastes and extracts are either organic or natural and they offer a selection of halal flavours.
SavaNIL's vanilla cuts and pods are all eco certified approved (organic certified). The production department in Madagascar is responsible for curing and preparing the vanilla cuts and pods to meet various moisture and vanillin levels. SavaNIL are Grade A and premium quality. SavaNIL tailors orders for pods including short pods only, long pods only, mix of either.
While others buy their powder, SavaNIL grinds their own vanilla powder using the best pods whatever the grade to maximise aroma. They also offer heat treated powder upon request.
​
The SavaNIL seeds are prepared to the highest standard, being one of few companies that can offer vanilla caviar seeds and exhausted seeds. SavaNIL  has a range of vanilla pastes, vanilla flavours and vanilla extracts. All their products are egg free, sugar free, nut free, dairy free, suitable for vegan and vegetarians.