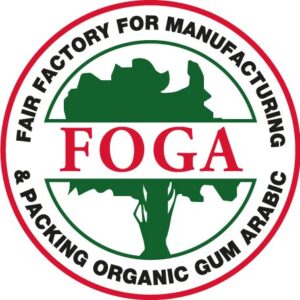 A smile on the face of the farmers, FOGA Organic Gum is a high-quality organic producer of Arabic gum from Africa with a sustainable impact.
High-quality organic products from satisfied farmers
All the FOGA products are harvested by farmers that FOGA knows. Farmers get:
Maximum profit
New young trees to extend their farms
Support for community projects like education and hygienic training
FOGA's cleaning factories are built close to the farmers to make processing easier and generate jobs for society.
Restoring nature
FOGA invest in a green future by planting new acacia trees.
---
Acacia Senegal trees grow best in a hot and dry area on Sahara sand. With their roots, they fertilise the ground so other vegetation can grow.
As well as converting CO2 to oxygen, these trees also attract more rain to the area and help to prevent sandstorms.
FOGA ORGANIC GUM ACACIA PRODUCTS
FOGA produces a range of Organic Gum Acacia (hashab) products like Instant Powder and spray-dried Arabic gum.
Harvest
To tap the resin cuts are made in the bark. The exudate dries up in the open air and is then manually harvested. There are 2 tappings per season in December and March.
Dried resin
After the harvest, the Gum Acacia tears are still soft and have to dry under the sun before the sorting, packing, storage, transport, and export.
Granulating and Milling
The raw Gum Acacia pieces go through processing stages to be made into different products like a spray-dried variant and also an instant powder variant.
Pulverizing
The Gum Acacia is dissolved in water, purified (by sieving and centrifugation), pasteurised, and then finally transformed into standardised powders through FOGA's own drying process.
Foga – Gum Arabic (Hashab – Kordofan Type) Spray Dry
€5,00 – €6.900,00 Excl. VAT
Foga Gum Arabic (Hashab – Kordofan Type) Purified 100% gum acacia (hashab), immediately usable for your processing.
With a high viber value of 95% this gum from the acacia senegal is the best quality gum for processing in your products.
Contact us via our site-chat or e-mail for large volume requirements and questions regarding payment terms.
Foga – Gum Arabic (Hashab – Kordofan Type) Spray Dry
Supplied by: Foga Organic Gum
Login to see product documents
Description
Gum Acacia (also called Gum Arabic) is made of the juice of a group of small acacia Senegal trees and shrubs, which grow predominantly around the warmer regions like gum belt, the Sahara in Sudan, Chad, Nigeria, Senegal and some parts of tropics and the Subtropics region. During the harvest season, trees are 'tapped' by making cuts in the trees. On the cuts the gum grows. After a few weeks the farmers get the gum from the tree. Crude of the grades are selected based on the type of hand Picked Selected (HPS), Cleaned Gum, Siftings and Dust.
Gum Arabic is a pale white orange brown solid that breaks with glassy fracture. It is highly soluble in water and gives 50% of solution. It consists 95% of soluble fiber, which is a good source of neutral sugars like Rhamnose, Arabinose and Galactose,. Gum Arabic is an excellent source of cationic components like calcium, magnesium, potassium and sodium.
Gum Arabic from Acacia Senegal is the most preferred natural constituent for the production of high-quality soft candies. It gives the product with soft but firm, long lasting in the mouth, and provides a clean, non-sticky chewing. 
Generally, this ingredient has various applications especially used in encapsulating flavours, preventing of sugar crystallization, emulsifying the fat throughout the product and as lubricant/ binder in extruded snack cereals, partial oil replacer or water binder.
Applications of Foga gum Arabic:
| | |
| --- | --- |
| Industry type | Various end product applications |
| Confectionery | soft, chewy candy, gummy bears, marshmallows, coated candy |
| Beverages and flavours | flavour encapsulated |
| Dairy Products | Cheeses, condensed milk, pudding, dairy spread, whey products, milk powder, eggnog and other dairy-based drinks. |
| Processed Meats | hot dogs, sausages, luncheon meats, dried egg products, meaty soups, sauces and canned fish |
| Soya products | tofu and soymilk |
| Bakery Products | Extruded snacks, low fat cake and muffin mixes |
Confectionery
In the Confectionery industry, Gum Arabic is used to retard or prevent sugar crystallization. It can be used to emulsify the fat and keep it evenly distributed throughout the product.
Beverages and flavours
The major property of Gum arabic, can produce and stabilize emulsions and also excellent for encapsulation of flavours because gum arabic has low viscosity, bland flavour and protects against flavour oxidation.
Dairy Products
Almost any dairy product can contain Gum arabic. It is used in products like all types of cheeses, condensed milk, pudding, dairy spread, whey products, milk powder, eggnog and other dairy-based drinks.
Processed Meats
Any meats that have been processed or have ingredients such as flavourings added to them are likely to contain Gum Acacia. This includes hot dogs, sausages, luncheon meats and canned fish. Any preserved meat or fish, as well as dried egg products and meaty soups and sauces also contain Gum Acacia. 
Soya products
Products made with soybeans, such as tofu and soymilk, usually do not contain Gum Acacia. However, soy-based seasonings, such as soy sauce, are likely to use Gum Acacia as a preservative.
Bakery Products
Gum Acacia applied as a lubricant and binder in extruded snack cereals, Gum Acacia provides adhesion of dry flavours in peanuts and similar products. In low fat cake and muffin mixes, Gum Acacia functions as a partial oil replacer as well as a moisture binder.
Pharmaceutical
The usage of Gum Acacia in pharmaceutical applications is based on its natural properties of emulsification, stabilization, demulcent action, adhesiveness and binding action.
Gum Acacia is a 100% water-soluble non-starch polysaccharide (NSP) which is resistant to hydrolysis by the digestive enzymes of humans so delivers in excess of 85% total dietary fibre. Foods containing the requisite amounts specified in the pending EC Health Claims legislation can be labelled "contains a source of fibre". Gum Acacia is approved for use in food (E414) with non-specified.
Additional information
| | |
| --- | --- |
| Weight | 26 kg |
| Application Area | Bakery, Beverage, Confectionery, Dairy |
| PACKAGING | 0,150KG SAMPLE, 1000KG IN BAGS OF 25KG, 100KG IN BAGS OF 25KG, 25KG BAG, 500KG IN BAGS OF 25KG |
| Labels and Marks | |
| Dietary Suitability | |
| Shelf Life | Unlimited |
| Storage Conditions | Dry conditions preferable |
| DG Classification | NON DG |
| Country of Origin | Netherlands |