Testing the waters: Turning beverage trends into winning products

1-2-Taste's Jasper Schouten speaks with ingredients suppliers about market trends, product innovation, best practices, supplier challenges, and more.
"Eat, drink, and be merry." From water, to tea, to beer and beyond, beverages do a lot more than provide simple hydration: they can also bring us pleasure, health and social benefits. But how can you give consumers what they want, when they seem to want it all? In our recent podcast, Peter Roepers of PREfresco Beverage Lab, Xavier Papasseit of ITS, Ross Norris of Australian Native Products, Hassan Jamil of Dole and Arjen van der Wijk of Cibus Nexum shared with me their insights into the beverage company's journey to introduce innovative and successful new products.
When we say "Consumers want it all" from their beverages, we mean exactly that! On the one hand, they are shouting out for new experiences, like unique craft and premium beers or innovative flavours, ingredients and brewing techniques. At the same time, they are looking for products that are "healthier" – for both themselves and the planet. That can include low/no-alcohol beverages, drinks with functional ingredients such as probiotics or vitamins, or more environmentally friendly processes.
Luckily, ingredients suppliers are finding new ways to support small and medium-sized breweries and beverage companies with these seemingly conflicting demands. So, what's your cup of tea? Finding innovative botanical ingredients that combine taste and functional benefits? Putting your focus on sustainability, with 'upcycled' ingredients made from side-streams or local sourcing that helps the environment and local communities? Or maybe you want to make sure you are offering consumers the 'trendy' flavours they are looking for?
In our podcast, five suppliers share their insights into the beverage and brewery product development journey, following five steps: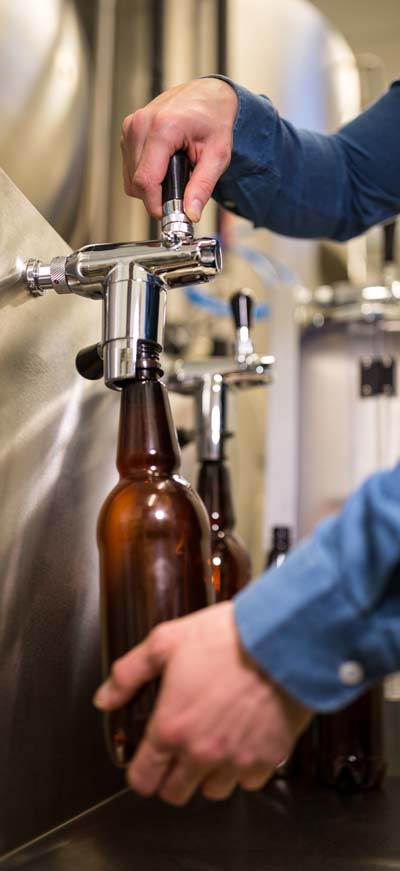 The challenges of new ingredients
There is a lot to consider when developing your concept. Peter Roepers contrasts creating a new beverage with making a new pizza. You can add onions on your pizza, and it remains a pizza. But with beverages, everything you add to the recipe will have an impact on all the other ingredients. So what's going to happen if you add, for example, an acid to a functional ingredient? It can be very useful to get expert advice on translating your idea into a workable recipe and saleable product.
Flexibility factors and knowledge bases
Xavier Papasseit feels creating a winning prototype doesn't get enough attention! Projects can take a long time from idea to market, and prototyping is crucial to overcome possible issues. There is already a lot of information out there that you can tap into about what works in specific applications. Get support from a partner with facts, figures and experience to create a prototype that offers the taste, colour, texture and functionality the market wants.
Windows of opportunity
Ross Norris explains that one of the biggest struggles for a beverage company when going to market is launching the product on time. But small and medium-sized companies have an advantage here, since they don't need to introduce new products around major retailers' schedules. Instead, they can launch when their product is ready. Of course, you shouldn't ignore seasonal launch windows: Christmas products in November, slimming products in the spring, etc.
The need for transparency
When it comes to supplier contracts and pricing, everyone is under a lot of cost pressure today. Hassan Jamil shares ways suppliers can bring those costs down for customers. For example, moving production closer to the raw materials can have a big impact. But so can technologies like automation and the Internet of Things (interconnected devices and technologies). Price transparency is important – and be sure to look at alternative products to see how their total cost compares.
Local-for-local supply chains
When it comes to ensuring a robust supply chain, Arjen van der Wijk believes that local-for-local offers a lot of opportunity. Rather than importing everything from China, ingredients suppliers are setting up local distribution and supply chains. This doesn't have to mean higher prices, however: products from Europe aren't necessarily more expensive. So look beyond your "traditional" expectations, and find out what's new with ingredient suppliers!
1-2-Taste can help you overcome your supply challenges, with a wide portfolio of ingredients; transparent, competitive pricing; an interface that makes it easy to find suppliers and order; minimal order quantities; and technical product development support.
We've moved away from the past when a beverage should simply taste nice. Today, it should have something natural and healthy in it.
– Peter Roepers, PREfresco Beverage Lab
It's wise to develop 2-3 prototypes, to have a few alternatives on the table. But not more, because that drains your resources.
– Xavier Papasseit, ITS
When purchasing raw materials, quality is a pre-requisite. You then have to make the balance between price and availability.
– Arjen van den Wijk, Cibus Nexum
There are a lot of twists and turns your product can take, whether for quality or cost reasons. Make sure you keep true to your original idea, identified from consumer discussions or market testing.
– Ross Norris, Australian Native Products
Cost is not the only important factor for an ingredient. The success of an ingredient is determined by the acceptance of our customers and of the end-user.
– Hassan Jamil, Dole Sunshine Company
1-2-Taste Talks Food Ingredients Podcast Series
Beverage – Latest Beverage Industry Trends
The beverage and brewing industry is facing a lot of new demands from consumers: from premium products and 'hot' new flavours, to healthier or eco-friendly options. How can a small or medium-size company be competitive in such a challenging environment? That's the question we discuss with 5 industry suppliers. They spill the tea on how ingredient suppliers are supporting beverage and brewery producers in their product development journey.
1-2-Taste beverage partners